Join Our FREE Newsletter
Stay in the loop with new office & work from home trends, new release and exclusive giveaways!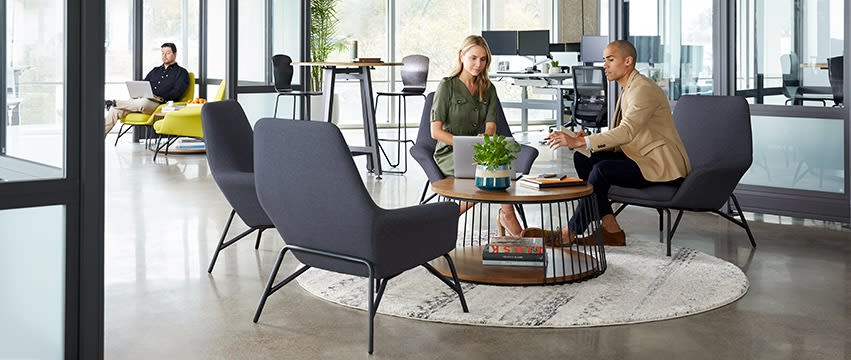 Vari (formerly VariDesk) is a workspace innovation company. It features products that allow people to scale their workspace and make it more productive. 
Vari created its first product, the original VariDesk, for a colleague who wanted a simple solution for back pain due to sitting at work all day. VariDesk still offers its original standing desk. However, it also provides adaptable office furniture and more. 
Some of Vari's most attractive features include a wide variety of office furniture and accessories, space planning options, and free delivery. It also invites customers to take part in the exciting 28-Day Workspace program.
Vari Products
Desks, Tables, and Storage

 
Vari sells its original standing desk as well as other office furniture such as desks, tables, seating, storage, and accessories. 
VariDesk Converters are among the most popular products due to security and versatility. 
The company also sells standing desks and tables that adjust the height based on user preference. These furniture items come in electric or manual options. 
Vari also sells storage solutions such as filing cabinets, lockers, and secure storage cabinets at reasonable prices.
Seating
Vari offers a wide array of seating options.
The "Active Seat" has an articulating pedestal to let users move dynamically, in whichever direction they want. The Storage Seat is a combination storage cabinet with a comfortable cushion. 
Privacy Walls and Panels
Vari also offers walls and privacy for an office setting.
You can place the acrylic privacy panels with a frosted finish between desks or tables for improved privacy. 
For large, open workspaces, you can opt for the panel made out of felting, which ensures maximum privacy and sound dampening. These panels enable privacy without the use of cubicles or wall dividers.
Office Accessories
Vari accessories cater to employees who are on their feet all day. Standing and active mats offer comfortable cushioning. 
Other accessories that Vari offers include power strips, single- and dual-monitor arms, task lamps, whiteboards, and much more.
28-Day Workspace Program
The company's "The 28-Day Workspace" program helps you design a custom workspace for your home or office using its products. The program runs 28 days and includes:
In-person design consultation
Design of a custom space plan
Price quote
Free delivery and installation
Project management
Debris removal
Vari Specialty
Out of all its products and services, Vari's best feature is its budget-friendliness. 
Other companies that offer standing desks and other office supplies can get pricey, especially if purchasing for an entire office. 
Vari gives you the best value for your money. Their products are easy to customize, and the variety makes purchasing Vari a cheaper alternative to other companies. It offers installation services with every purchase, as well as free space planning and delivery of products. The company is top-of-the-line for everything in office planning.
Vari's products undergo testing and certification to the highest industry standards, so you're getting the best product for the most budget-friendly price.
Want to Know More? 
Are you ready to get started with an ultra-custom office or workspace at a lower price than the competition? Check out Vari's website here.
Discover our expert's pick and full reviews, tips and product information like you have never seen before!
Standing Desk Picker
Answer these 15 questions to find the standing desk that best fit your needs.
Join Our FREE Newsletter Stay in the loop with new office & work from home trends, new release and exclusive giveaways!Last Updated: Aug 2nd 2020 Picture Credits: ApexDesk It's no secret that sitting at a desk all day isn't great for your physical health. Sitting...