The Best Standing Desks [2020 Buying guide]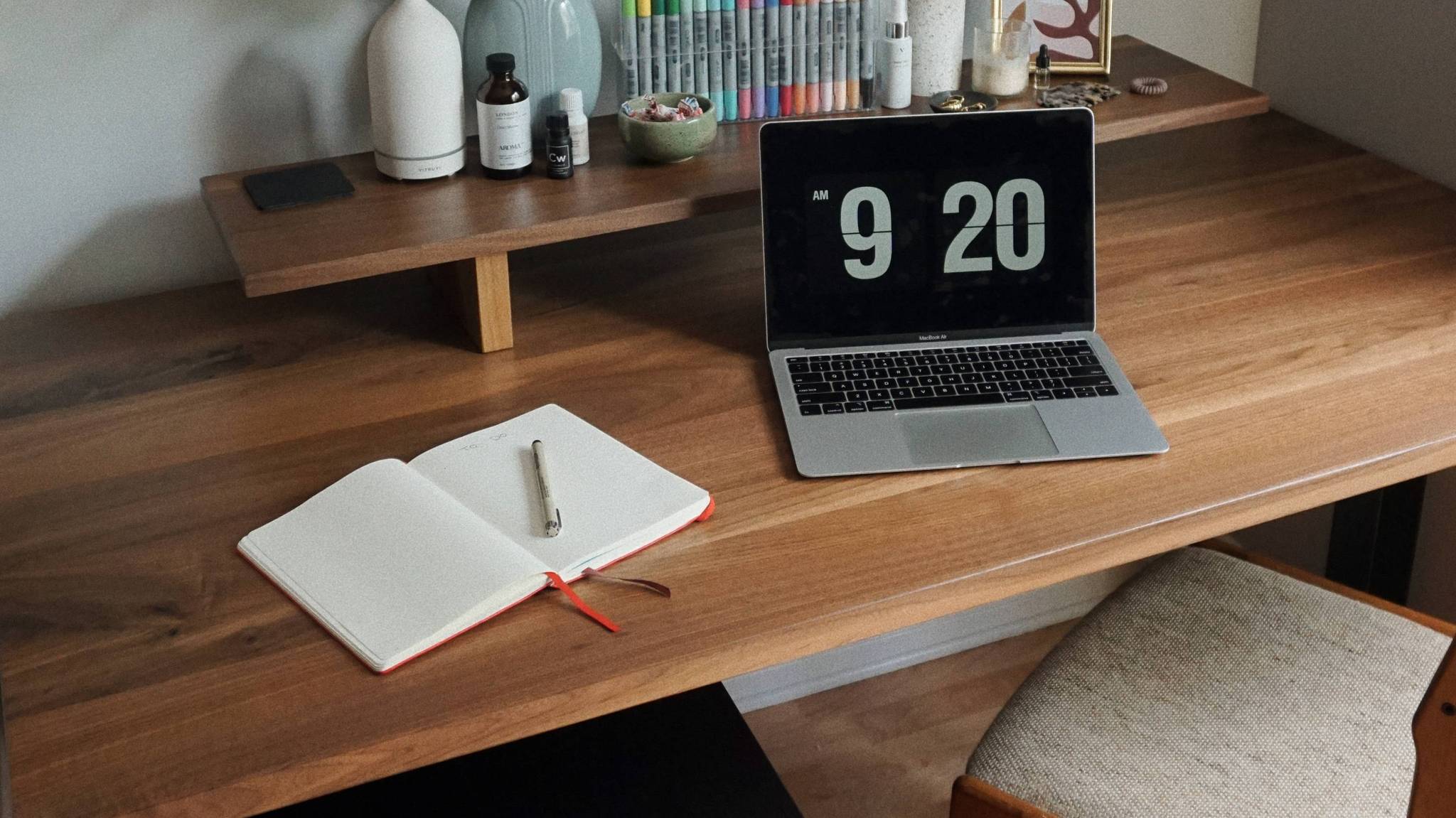 The 5 Best Adjustable Standing Desks in 2020
Humans spend a lot of time sitting around. Whether it be in the office, couch, bed, or even on the bench when out in the park, we always find a way not to be vertical. Blame it on our inherent tendency to always choose the path of least resistance, but sitting comes naturally to us. 
Here's the problem– Prolonged sitting is shown to be detrimental to health. Studies show that sitting for long periods increases our risk for severe health conditions like heart disease, stroke, diabetes, high blood pressure, and cholesterol. It also wastes away the leg and gluteal muscles, which plays a significant role in enforcing stability, as well as to carry out activities like walking and running.
Standing, on the other hand, not only burns more calories but decreases the lumbar load on the spine, alleviates back pain, lowers risk for heart disease, boosts energy, alleviates mood, thereby increasing productivity. Adjustable standing desks exist to free the deskbound humans who are chained to the sedentariness of chairs and get them moving and unlocking their ultimate potential across all facets of their lives.
What Is An Adjustable Standing Desk?
An adjustable standing desk looks like a typical desk but has customizable legs which can be lowered or raised to allow for a seamless transition between sitting and standing throughout the workday. The desk height is manually or electrically adjusted, so it is always in proper alignment with your wrist, hands, and eyes. 
A standing desk converter is a variant of an adjustable standing desk. This is a portable fixture that can be placed on top of your ordinary office desk and can be customized to your height. It can be multi-tiered with a keyboard tray and a spot for the mouse, laptop, etc.  
Adjustable height standing desks, also known as sit-stand desks, give you the ability to change positions throughout the day to eliminate fatigue and improve physical and psychological health– without impeding your work.
Benefits Of Adjustable Standing Desks
Adjustable height desks are now ubiquitous. Many workplaces are openly embracing the power of standing workstations to boost the overall performance of their company. There are plenty of benefits to be reaped from adjustable standing desks: 
Increased workplace productivity: The face of the workforce is getting younger, with millennials increasingly dominating the space. Unlike their Baby Boomer coworkers, millennials do their best in active workplaces. Even, corporate behemoths like Apple gives all its employees a standing desk to pump-up the productivity of their young workforce. 
Improves ability to focus: Adjustable standing desks stimulates the body's circulatory system. The brain gets an increased supply of blood, nutrients, and oxygen, which improves memory and alertness. Standing while working also boosts neurogenesis— the process through which new neurons are formed.
Alleviates chronic pain: A stiff neck, cramped back and shoulders, and strained joints are all sad side-effects of a world afflicted with the sitting disease. Our bodies are designed to be moving, and adjustable standing desks allow for that flexibility.
Types Of Adjustable Standing Desks 
The office furniture market has plenty of standing desk options available, but they mostly fall into two main categories – Hand crank adjustable standing desk and Electric adjustable standing desk. 
Hand Crank Adjustable Standing Desk: This category contains some of the most affordable standing desks. That's because it's a little labor-intensive to operate. Hand crank adjustable desks require you to manually operate the lever till the worktop reaches the desired height. This can be tiring, tedious, and time-consuming to do it multiple times a day. Also, hand crank adjustable desks are susceptible to load balancing issues. Uneven weight distribution across the work surface can cause the desk to rise lopsidedly. 
Electric adjustable standing desk: This type of adjustable standing desk automates height adjustment to just a push of a button. Most come with memory buttons you can use to preset the desk to a certain height. An electric adjustable standing desk is perfect for those who want to cycle between sit and stand positions throughout the workday frequently. Because of its automation capability, electric standing desk models are often more expensive.
Our Rating Methodology
We are always committed to bringing the most unbiased and high-quality reviews to our readers. We strive to earn your trust through being transparent and using data to back our recommendations. 
For this review guide, we have evaluated scores of adjustable sit-stand desks based on the key factors, such as height range, durability, customization, price, weight capacity, operational noise, and more.
5 Best Adjustable Standing Desk 2020
Quick summary
The Sway Desk– Best Overall Adjustable Standing Desk
ApexDesk Elite Series 60" W Electric– Best Value for a Large Desk Space
Vari Electric Standing Desk 60– Best for Easy Installation
SHW Electric Height Adjustable Computer Desk– Best for Budget Shoppers and Home Offices 
Mount-It! Electric Standing Desk Frame– Best for Stand-alone Adjustable Frame 
1. The Sway Desk: Best Overall Adjustable Standing Desk
Desktop Color: Wood, Birch, Walnut
Frame Color: Black, White
Size: 24"x48"; 30"x60"; 30"x72"
Frame-height Range: 22.7″ to 48.7″ (with 1 1/4″ thick top)
Price: $1,595.00 + CAD
The Canadian brand, Ergonofis, is well-known for its high-end collection of handcrafted desks that are both phenomenal in both aesthetics and design. The Sway desk is no different. 
Design: One of the marquee features of this desk is its beautiful solid wood top. Its made of real wood, making every slab a little bit different with a unique pattern of the wood grain, cracks, and knots pattern. The solid wood top comes with a water-based lacquer finish and is locally sourced and handmade in Montreal.
Ergonomics: The sleek touchscreen that controls the mechanics of the table is located neatly on the bottom right corner of the desk. This way, the control isn't obstructing the work surface in any way but is still available within reach. 
Operation: The whole process of the table moving up and down is fluid and quiet (<45 decibels). The Sway desk has a lifting capacity of 300 lbs, but most people wouldn't be placing that much weight on their desks. 
It also has an anti-collision mechanism that detects obstructions in its travel-path and stops before causing damage to the object. 
The Sway desk moves at the speed of 1.5″ per second, which is pretty fast. The quickness can be helpful if you are shifting between standing and sitting frequently. 
Cable Management: Look under any desk, and it's not unusual to find an intricate web of tangled cable wires from all the different devices. It's pure chaos. The Sway desk comes with a slot that the cable wires can pass through. It also comes with clips to plug the loose cables together under the table. 
You can also order grommet in either black or white. This is a ring-shaped strip that adheres to the cable-slot. With a grommet attached, wires won't get scratched by the rough edge of the slot. 
What We Like
Its minimalistic design that's both timeless and modern

Handmade in Montreal with locally sourced wood

Sturdy built

Fluid, noiseless operation along the full height scale

Powerful anti-collision mechanism

Ability to handle up to 300 lbs

Variety of colors available

Reviews highlight exceptional customer service

They offer custom sizes

10-year warranty that protects the wood top and frame against damage 
What We Don't Like
It takes 5-10 days to ship; 6-8 weeks for custom orders.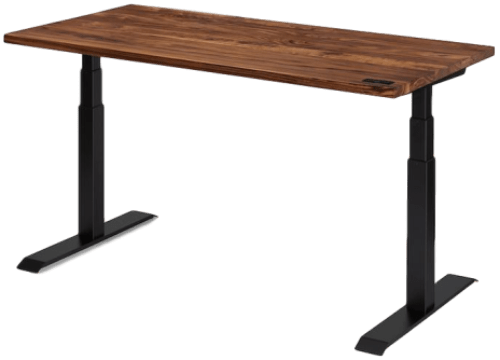 If you are looking to create a workspace that is functional, yet stylish, then the Ergonofis Sway standing desk is the best pick for you.
For people who enjoy design
Sway Desk
It is not only visually pleasing but sturdy and stable no matter what you place on it. A purchase worth every penny you put down.
2. ApexDesk Elite Series 60" W Electric Height Adjustable Standing Desk
Desktop Color: Black, while red apple, walnut, light oak
Frame Color: Black, White
Size: 60" x 29. 5" x 1"
Frame-height Range: 29" to 48"
Price: $599.99
If we could describe ApexDesk Elite Series in one word, it would be 'Excellent value'. Ok, that's two words, but it deserves that added extra. This desk is the wallet-friendly solution for those who want to kick mid-day energy slumps out of their lives with a large adjustable standing workspace. 
Design: The tabletop is made of Medium Density fiberboard (MDF), which is more robust and denser than plywood, and it also has an anti-scratch laminate. The shape of the ApexDesk is unique since it has a slight concave-curve across the front. This design subtly hugs your torso horizontally, which allows you to sit closer to the desk. The 60″ width gives you an expansive workspace big enough for multiple monitors for a relatively low price. Another advantage of a wider workspace is that it boosts stability since there is more area to distribute the weight of objects.
Ergonomics: The control panel is located at the front right of the desk. It has an up and down button and four memory preset buttons to input customized heights. This way, you can preset sitting and standing heights for you and someone else, too.
This desk comes with a one-piece steel frame that, when combined with the desktop, can lift about 225 lbs. Since it doesn't have a crossbar, it gives you more legroom, and you can even add a treadmill or an exercise bike for an added physical exertion.
Operation: Both the start and stop phase as the frame slides the top up and down is smooth. This way, your monitor arms don't suffer shock from abrupt movements. It isn't loud during operation, but you can hear the gentle whir of the motor. It is not highly obstructive, just about on the same level as a little breakroom chatter in the background.
Cable Management: ApexDesk Elite doesn't have much for cable management. That said, you can purchase a separate Under Desk Cable Management Tray, but that will be an extra $30. 
What we like
It gives you a large work surface for an affordable price
Plenty of legroom
Several color options
Four programmable settings
What we don't like
Warranty limited to just 2 years
No cable management option
Presetting height isn't the most intuitive
3. Vari Electric Standing Desk 60
Desktop Color: Black, White, Butcher Block, Reclaimed Wood, Darkwood 
Frame Color: Slate grey, Silver
Size: 60" x 30"
Frame-height Range: 25.5" to 50.5"
Price: $1,050.00 CDN
Vari is one of the pioneers of sit-to-stand desks, and this was the first product within its electric standing desk range. Vari, as a brand, is famous for its extravagant ad budget and products that are steeply-priced. That said, formerly known as Varidesk ProDesk 60 Electric, this desk is one of the easiest to assemble in the market– we are talking less than 15 minutes. 
Design: Visually speaking, this desk isn't going to win any awards. It has a simple rectangular desktop that comes in five colors. Despite what the shade-name might make you think, they aren't made of real wood. They are just wood patterned-images printed on thermofoil laminate sheets.
The crossbars come preinstalled to the worktop. When it comes to installation, you only have to plug the cables into the power supply and mount the stability bar between the frames. Then install the cable tray, and that's all there is to it. The order even comes with all the necessary tools needed for installation. 
Operation: This desk comfortably lifts about 250 lbs. The crossbars give the desk excellent lateral stability. The travel speed from top to bottom is slightly lower at 1.28″ per second compared to other options available on this list, but it gives some of the gentlest operations. 
It comes with three programmable settings, with the controller located at the bottom left of the desk. 
Cable Management: The desk comes with an indentation at the back of the desk. The cables can pass through the slot even when the edge of the table is placed flushed against the wall.
What we like
Very quick to assemble
At its maximum extension, its high enough for someone over 6 ft. 
They offer a 30-day return policy and a five-year warranty which is quite generous 
Comes in a variety of colors 
Quiet operation
What we don't like
No anti-collision mechanism
Expensive 
The exposed worm drive on the motor can make it susceptible to rusting and contaminant build-up, impacting its durability and performance 
The thermofoil lamination can look cheap
4. SHW Electric Height Adjustable Computer Desk 
Desktop Color: Maple, Walnut, Black
Frame Color: Black, White
Size: 48" x 24"
Frame-height Range: 28" to 46"
Price: $299
SHW Electric Height Adjustable Computer Desk is the cheapest adjustable sit-stand desk on our list. It's a fantastic entry-level option for those who want to try out the wonders of having a sit-to-stand desk without shelling out too much money. This desk is also ideal for those who have a home office. It doesn't have many frills but keeps you active, alert, and productive. To make it even more affordable to customers, SHW offers free shipping. 
Design: This is a simple rectangular desk made with two wood panels. The part where the panels join is only subtly visible. Since it's a very sturdy desktop, people usually think its made of one solid piece of wood.
The surface area is large enough to fit two monitors along with other work supplies. The legs are made of high-grade industrial steel and are very sturdy. Due to the simple design of the frame, there is plenty of legroom in the middle.
Operation: The height scale ranges from 28″ to 46″, which is best suited for someone 6ft or below. It comes with an intuitive control panel containing an up-and-down and memory preset buttons. 
You can program it to store four different height parameters, which is quite generous for a standup desk that's in the lower price range. 
The one drawback about this desk is that it's noisy during height adjustment. But since it adjusts quite quickly, this won't be a prolonged hindrance. 
Also, you will have to calibrate the panel when using it for the first time, but this process only takes a few minutes. 
Cables Management: This desk comes with a grommet, but its located on the far left corner. If you are using just one monitor, then that grommet should be enough. If you have another monitor placed at the right end of the desk, then managing its wire without making it look cluttered will be tricky.
What we like
It's budget-friendly
Plenty of legroom
Very sturdy
Comes with four memory preset options
What we don't like
Some customer reviews have mentioned that the height adjustment mechanism stopped working just after a few months
Noisy operation
Another grommet on the far right would be nice
Customer service is unreliable 
5. Mount-It! Electric Standing Desk Frame 
Frame Color: White
Frame-height Range: 25.6." to 48.4"
Price: $429.99 CDN
We wanted to include an option for those who can't afford to invest in a full electric standing desk, or already have a favorite tabletop but want an adjustable frame for support. Mount-It! Electric Standing Desk frame is made of solid steel and can hold tabletops sized 47.24 x 74.8" or 25.6" x 33.5".
Design: The construction of the desk frame is sturdy and stable. The motor operation is quiet and extends the legs higher and lower smoothly and quickly. The crossbar reinforces stability to the tabletop and eliminates any chance of wobble.
Operation: This desk riser frame comes with a touchscreen display with three programmable height presets, and a timer function that reminds you to stand or sit in constant intervals. It also has an energy saver control switch, and an anti-collision system to ensure that the desk doesn't hit an object on its way. There's also a footpad at the bottom of the legs to enhance stability and leveling. 
What we like
Durable crossbars add stability to the tabletop of your choice 
Comes with timer and energy-saving option
Has a touchscreen with three preset memory option
Anti-collision system 
Footpads to increase stability 
Easy to assemble
What we don't like
No top. Can be a little expensive for just a frame 
Based on the customer reviews, the touchscreen seems frequently go into sleep mode which can be an annoying problem
Join Our FREE Newsletter Stay in the loop with new office & work from home trends, new release and exclusive giveaways!Last Updated: Aug 2nd 2020 Picture Credits: ApexDesk It's no secret that sitting at a desk all day isn't great for your physical health. Sitting...