Join Our FREE Newsletter
Stay in the loop with new office & work from home trends, new release and exclusive giveaways!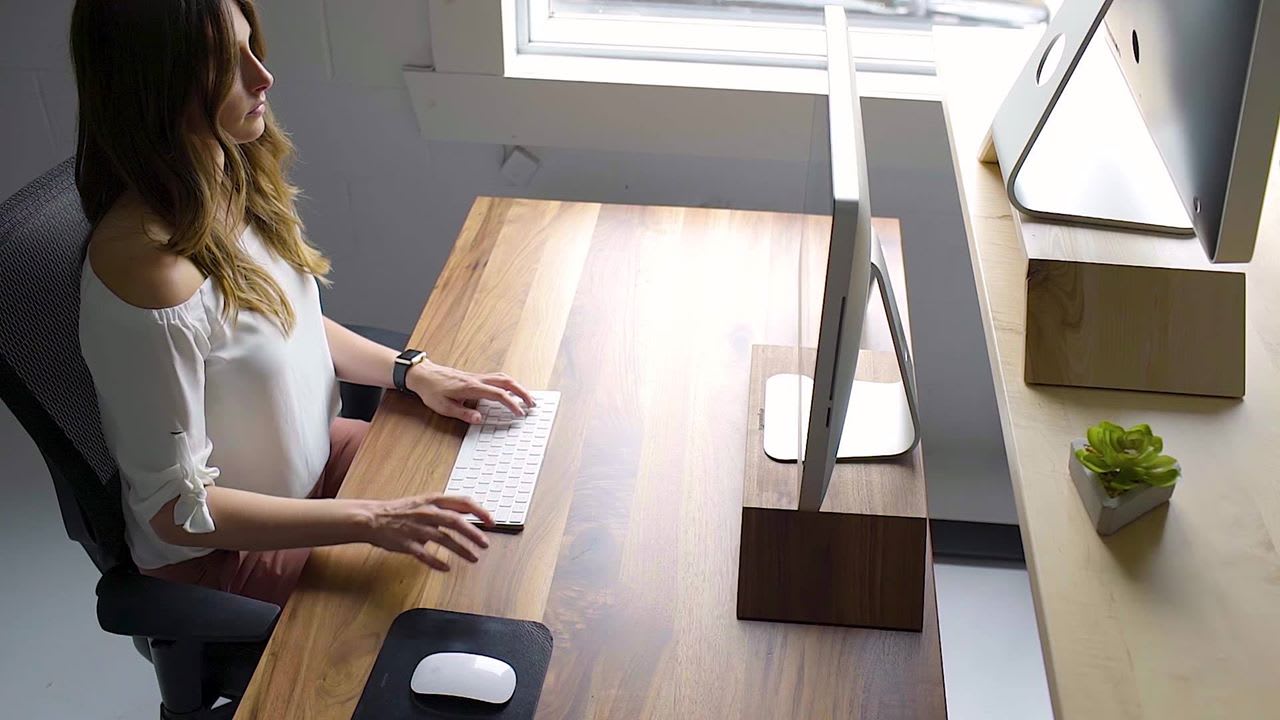 The Canadian brand Ergonofis came to life when its co-founder, Samuel Finn, realized office workers shouldn't have to choose between standing and sitting.
After starting his own company selling personal training plans online, Sam created a make-shift standing desk to avoid sitting down all day. However, he quickly found that standing wasn't healthy either, so he partnered with co-founder Kim to create Ergonofis.
Ergonofis aims to 'redefine what work should feel like.' The company's commitment to design, health, and ergonomics yields a re-envisioning of the workspace. It offers a range of adjustable handcrafted desks that are as beautiful as they are practical.
Ergonofis Products
Ergonofis's product range is small but mighty. The company sells four sit-stand desks – all of which are adjustable at the touch of a button – alongside various workplace accessories and an ergonomic chair.
The Shift Desk
The very first product that Ergonofis launched, the Shift desk offers a soft-touch laminate work surface on the brand's classic adjustable frame.
Whether you want to sit, stand, or anything in between, this desk supports it all. The frame contains two quiet motors (> 45 decibels), which will slickly move the desk into position. The Ergonofis Shift desk can double in height, from 24.5-inches to 50.2-inches.
Its 7/8-inch surface has an innovative smart material that's anti-bacterial, anti-fingerprint, and resistant to scratches. The product also has received certification by the SCS for its levels of sustainability.
The Sway Desk
Unlike the Shift, the wood-topped Sway desk features an integrated interface. This panel – set into the work surface – controls the height of the desk with a single click. You can conveniently move the desk height from 22.7-inches to 48.7-inches.
Available in maple, birch, and walnut, the surface of the Ergonofis Sway desk measures 1 1/4-inch thick and has a matte lacquer finish.
The Alive Desk
The Alive desk consists of Canadian wood that is 2 inches thick, with live edges that follow the natural contours of the tree.
Its integrated touch screen can modify the height of the desk from 23-inches to 48-inches, with a travel speed of 1.5-inches a second. This combination of technology and nature makes the Alive desk a modern yet classic piece. It comes available in three standard sizes, as well as custom dimensions.
Ergonofis' Specialty
Ergonofis's products stand out for their premium quality and beautiful design. Each handmade desk exudes a sleek and minimalist aesthetic, and the company creates its products using local materials from Quebec and Montreal.
Choose between the Shift desk with its five matte shades, the Sway desk with its solid Canadian wood top, or the Alive desk with its live-edges and unique grains. Combine these with tactile surfaces, ultra-quiet motors, and customizable settings, and Ergonofis has proven that excellent design is as much about performance as it is about appearance.
All of the Ergonofis desks boast solid construction with enhanced stability at every height. They can lift 300lbs and have an impressive warranty of 10 years.
Want to Know More?
Check out the Ergonofis website now to find out more about the company and its range of sit-stand desks.
Discover our expert's pick and full reviews, tips and product information like you have never seen before!
Standing Desk Picker
Answer these 15 questions to find the standing desk that best fit your needs.
Join Our FREE Newsletter Stay in the loop with new office & work from home trends, new release and exclusive giveaways!Last Updated: Aug 2nd 2020 Picture Credits: ApexDesk It's no secret that sitting at a desk all day isn't great for your physical health. Sitting...