ApexDesk Flex Series Electric Standing Desk Review 2020
Join Our FREE Newsletter
Stay in the loop with new office & work from home trends, new release and exclusive giveaways!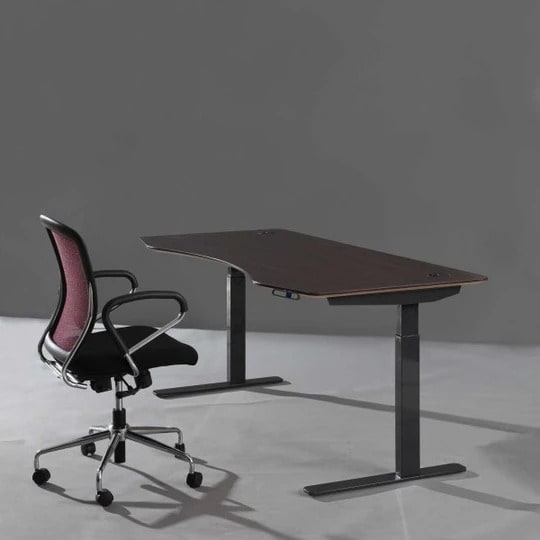 It's no secret that sitting at a desk all day isn't great for your physical health. Sitting for prolonged periods puts unnecessary strain on your body. As a result, standing desks have become increasingly popular. Standing desks are a great way to keep your blood flowing throughout the workday.
Today we'll be reviewing the ApexDesk Flex Series electric standing desk w/ 60″ x 30″ top. This desk is a fully automated option with a powerful lift system and dual-motor frame. We'll explore the pros and cons, ease of assembly, and whether the ApexDesk Flex Series is worth the splurge.
Pros
Dual motors
3- stage base
6-button LED memory display control
High-quality appearance: smooth matte or gloss finish
Supports up to 225 lbs of weight
Easy assembly
Four customizable height settings, height can be adjusted anywhere between 25.6″-51.6″
Cons
Moderate price point
Short warranty period
Limited size options
Desktop Offerings
Material
The ApexDesk is quite stylish with its smooth matte or gloss finish. You can decide which style desktop you prefer: ergonomically curved top or traditional rectangle. 
You also can choose from a range of colors, including black, grey, and cherry red.
Size
With a 59.5″ x 29″ workspace, you'll have plenty of room to complete all of your tasks.
Operation and Stability
The ApexDesk is very easy to operate. It moves quickly (1.5 inches per second) and quietly. 
This desk is also very stable and solid, thanks to the scratch-resistant MDF desktop combined with the industrial-grade steel frame. The ApexDesk holds 225 pounds of weight and even comes with leveling feet to keep it level and sturdy even on uneven surfaces. You can position the ApexDesk anywhere between 25.6 to 51.4 inches of height.
The LED memory controller allows you to set up to four customizable height settings for your convenience. This controller also shows you the exact height of your desk in inches as it raises and lowers.
Ease of Assembly
You can assemble this electric standing desk with a 60″ x 30″ top easily. Thanks to its unique structural design and easy to follow instructions, the ApexDesk can be assembled and installed in less than 45 minutes.
How Good is the Warranty?
The warranty period of the ApexDesk is two years for the frame, which is a slightly short warranty period for an electric standing desk. However, it is not entirely surprising considering the great value of this product.
The Takeaway
After considering all the factors, the ApexDesk is worth the somewhat high price point. It's still a better value than some other fully electric standing desks and is very stable. It holds ample weight, is easy to install, and gives you a lot of freedom to find and save your ideal desk height.
Who is it For?
The ApexDesk Flex Series is great for anyone ready to take the leap and enjoy a fully electric standing desk. We spend a lot of time at work, and it's worth the investment to spend more of your workdays comfortably standing. This reliable and visually appealing desk will make a great addition to your home or office.
Discover our expert's pick and full reviews, tips and product information like you have never seen before!
Standing Desk Picker
Answer these 15 questions to find the standing desk that best fit your needs.
Most people prefer not to sit at a desk all day staring at a screen, but it's one of the fundamental aspects of working 9-5. However, who said you had to sit all that time? In 2020, it's possible to get a standing desk that you can alternate sitting and standing with...