VARIDESK ProDesk 60 Electric Standing Desk 2020 Review
Join Our FREE Newsletter
Stay in the loop with new office & work from home trends, new release and exclusive giveaways!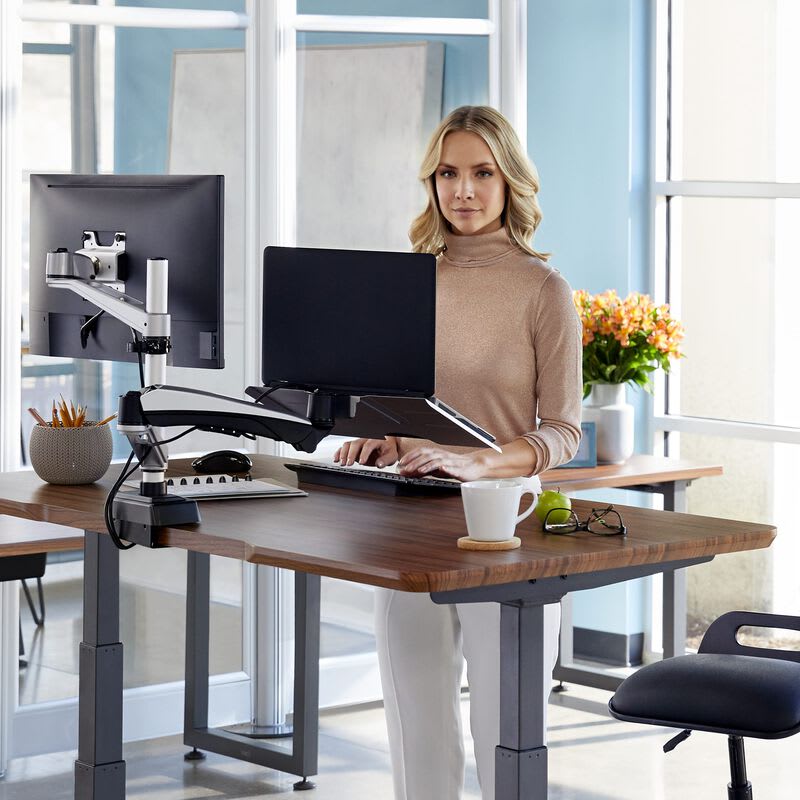 We've all heard about the effects of sitting at a desk all day. It's better to alternate between sitting and standing while at work, and now many 9-5 employees are choosing to switch out their current cubicle for a standing desk.
If you have decided to switch to a standing desk, you're taking the time to invest in your physical health and well-being. Now, the question is, how big of an investment are you willing to make? Will a simple add-on-solution that sits atop your desk do the trick? Or should you splurge on a full electrical standing desk?
Today we'll be reviewing the VARIDESK's first full-electric standing desk, the VARIDESK ProDesk. We've been highly anticipating its debut since VARIDESK is a giant in the standing desk industry. We'll give you the scoop on this product and help you decide if it's worth the investment. 
Pros
Quick and easy assembly
Good return policy
Five-year warranty
Very stable
Good lift capacity
Large height adjustment range
Can program up to 3 custom height settings 
Laminate finishes are thermoformed around contoured edges 
Cons
High price point
Difficult to move once it's in place due to the weight
Desktop Offerings
Height. The VARIDESK ProDesk is 48 inches wide and 30 inches deep. With three programmable settings, you can easily adjust it to your preferred height. You can adjust the size from 25.5 inches to 50.5 inches.  
Weight. It holds up to 200 pounds of weight, enough for two large monitors. The base is steel, and the top has a laminated finish that comes in several different styles- black, white, dark wood, reclaimed wood, and butter rock.
Features. The ProDesk comes with some accessories as well, including hooks for your headphones or cable wraps. It also comes with a cable management tray and a drink coaster.
Operation and Stability
The ProDesk is quite easy to operate. The control panel is just under the right side of the desk. On the control panel are three programmable settings buttons as well as an up and down arrow for adjusting the height of the desk. 
Unlike other non-electrical standing desks where there are several fixed heights to choose from, you can position the ProDesk at any height you like. The back of the desk also has a convenient cutout for cables.
The VARIDESK ProDesk is pretty quiet as it moves up and down. The sound is certainly not going to be distractingly loud in a shared office setting. Going from the fully lowered to the fully raised setting takes about 15 seconds.
There's nothing worse than a wobbly desk. When it comes to choosing which standing desk to purchase, stability is arguably the most important factor. The ProDesk has a cross support system, which improves lateral stability. This desk is incredibly stable and durable, making it easy to stay focused on work.
Ease of Assembly
VARIDESK has a reputation for its easy-assembly products, and the ProDesk is no different. You can easily assemble it in under ten minutes. The high-quality materials make it a little heavy, though, and you may need assistance from another person to flip the desk upside down.
Here's how to set it up:
The desk arrives in two boxes: one for the desktop and one for the legs. The legs are clearly labeled "R" and "L." All you'll need to do is slide the corresponding leg into the four notches on either end of the desk's underside. Once the legs are in the notches, they slide into place easily. All they'll need is a little push to snap into place.
After the legs are attached, slide the crossbar into its proper place on the backs of the legs. Bang the crossbar into place with the rubber mallet that comes with setup. You won't need to use too much force. 
Next, slide the cable tray into place at the back of the desk. It requires no screws or tools.
Once these steps are complete, you're ready to flip the desk over. You may need assistance from another person:
After you've flipped the desk and positioned it where you want, plug it in and power it on. 
Hold the up and down arrow buttons down simultaneously to initialize the desk. The desk will lower down all the way and then raise up. 
Once the desk stops, it's ready to use, and you can adjust the height to your liking.
The assembly process for this desk is much quicker and easier than similar products of its kind. The crossbars come pre-mounted onto the desktop, eliminating an assembly step for the user. All the necessary assembly tools come in the box, and they aren't the dinky tools that come with some other assemble-it-yourself products. They're high quality and get the job done.
How Good is the Warranty?
The five-year warranty on all components of the ProDesk is strong and competitive. VARIDESK has upped its game with the ProDesk warranty, compared to the one-year warranty on many of their other products.
Since this desk is at a higher price point than some other standing desks, this long warranty will make you feel better about splurging. You're guaranteed at least five years of solid use. 
The Takeaway
Even though the VARIDESK ProDesk is a little pricey, it's worth the splurge. It's more visually appealing than other standing desks with the wood finish desktop. It also gives you much more freedom to choose your ideal height setting. 
The extra money you'll spend on this desk is going towards a longer warranty, higher quality assembly tools, and easy-to-use product. 
Who Is This Desk For?
This desk is great for anyone willing to spend a little extra money on a fully automated standing desk with maximum customization potential. It's perfect for individuals who want a lot of freedom with the height of their desk and who keep a lot of heavy equipment on it, such as multiple monitors. 
The ease of assembly and use, stylish appearance, and long warranty of the ProDesk make this product a worthwhile purchase.
Discover our expert's pick and full reviews, tips and product information like you have never seen before!
Standing Desk Picker
Answer these 15 questions to find the standing desk that best fit your needs.
Join Our FREE Newsletter Stay in the loop with new office & work from home trends, new release and exclusive giveaways!Last Updated: Aug 2nd 2020 Picture Credits: ApexDesk It's no secret that sitting at a desk all day isn't great for your physical health. Sitting...