Uplift V2 Standing Desk 2020 Review
Join Our FREE Newsletter
Stay in the loop with new office & work from home trends, new release and exclusive giveaways!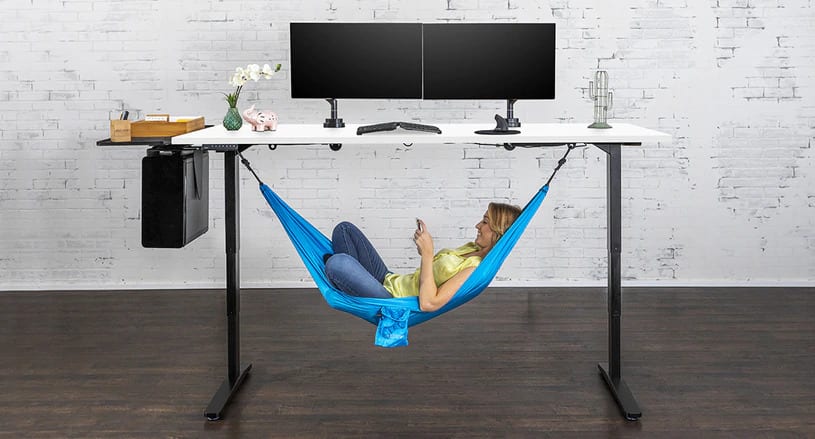 If you are looking for a desk that is attractive, functional, novel, and better for your health, the Uplift V2 Standing Desk is sure to grab your attention. 
An innovative and user-friendly desk designed by The Human Solution, the Uplift V2 Standing Desk allows the user to stand and move around rather than sit prone all day long. Of course, you can sit down when necessary as well. The Uplift V2 encourages office workers to alternate easily from sitting to standing as the day goes on. 
Pros
Ergonomic, modern design
Promotional extras such as a motion board so you can keep moving at work
Motion stool can accompany the desk
Lots of customization options
Easily adjustable for the right height for sitting or standing throughout the day
Seven-year warranty
Free Shipping
Cons
Warranty does not include all desk components, i.e., the desktop
A bit more pricy than regular work desks
The base frame can underperform
Desktop Offerings
The Uplift V2 Standing Desk comes with a large variety of features, and you can customize your desk to your liking. Just keep in mind the more features you add to your order, the higher the purchase price will be. 
Desktop Finish
With the Uplift V2, you get to choose from a variety of high-quality desktop material options. These include:
Regular or curved bamboo
Greenguard laminate in black, ash grey, whiteboard, white, maple, cherry
Real wood such as Acacia, Rubberwood, Pheasantwood, African Mohogany, Ash, and Walnut 
Several of the real wood options come with a much heavier price tag in the range of $600. With the Uplift, you have the option to increase the quality of material, as you see necessary. However, the bamboo options are durable and stylish all the same. 
You can customize the Uplift frame color as well. You can choose:
Size
The Uplift V2 Standing Desk comes in a few different sizes. 
These are:
48″ x 30″
60″ x 30″
72″ x 30″
80″ x 30″ 
Fortunately, you have a great range when it comes to this desk's size. Most manufacturers limit size options to one or two options, but Uplift makes fitting the desk in your office easier for you. 
Operation and Stability
Quiet Motor
The desk uses about 400W of power when in motion. However, that doesn't mean the desk is noisy as it adjusts to your settings. This desk moves silently, so you won't have to worry about making disturbing squeaks in a quiet office. 
Height Range
The Uplift base allows for easy adjustment is certified and is ANSI/BIFMAX5.5-2014 compliant. The height of the desk is adjustable via the Uplift electronic base, which is designed to offer ultimate support through its structure. The range it offers is about 24.5″ to 50.25″, which is broad enough to suit most needs. 
With 3-stage legs, you'll enjoy 33% faster adjustments than the average standing desk, as well as additional support. The frame's inverted leg orientation eliminates side-to-side wobble, which is extremely inconvenient and a huge turnoff. Instead, your desk will stand still and move quickly as you work all day.
Some users report that the base and frame quality is inadequate, but most report they have not had any problems. Issues with the base and frame might come with incorrect installation. To avoid a faulty base, make sure to follow the setup directions closely. 
Weight capacity 
The desk has a weight capacity of 355 pounds, so you'll be able to store large possessions and many files on top without fear of collapse. 
Keypad
Uplift includes a basic keypad, which is a small device with simple buttons for up and down movement. However, you can upgrade to the advanced keypad and experience the 4-programmable memory buttons. These memorize your ideal settings, so you never have to fiddle with your device while trying to work.
Other benefits include:
The advanced keypad also includes LED lights that illuminate for ten seconds. If you're working late at night, it will be easy to see your keypad and adjust accordingly.
The advanced pad comes with child lock. If you work from home and have little ones, they won't interfere with your four settings.
Soft-touch face and raised dividers make it easier to select the button you desire
Ease of Assembly
Although a fairly intricate design, the Uplift V2 Standing Desk is quite straightforward to put together. The desk comes with comprehensive instructions for assembly. 
Some of the components, such as the cable clips and adhesive pads, can be easily confused, so you must be careful to make a note of what is what. 
The Uplift V2 Standing Desk should not take much more than an hour to put together and be ready for work. However, the installation process becomes longer if you purchase add-ons for the product, such as the Uplift motion stool.
Other Uplift V2 Add-ons include: 
Uplift Motions stool or ergonomic chair
Motion Board or Motion Mat
Desk drawer
Footrest, a desk bike or treadmill
Side table desk organizers
Wire managing boxes
If you choose to add these extras, factor in the extra time it will take to set up.
How Good is the Warranty?
The Uplift V2 Standing Desk's warranty is a bit different from typical warranties. The Uplift base with its moving parts, electronics, and the frame comes with a seven-year warranty, but the desktop is not under warranty. 
If you are not satisfied with the product, you can also return the desk and get your money within 30 days of purchase with no risk. 
The Takeaway
The Uplift V2 Standing Desk comes with high-quality technical components as well as an aesthetically pleasing, smooth desktop finish. There are loads of nifty optional add-ons to choose from as well. While not the cheapest option, you won't be paying top-end prices. However, the cost adds up if you go with the highest quality desktop options. 
Who is it For?
All in all, the Uplift V2 Standing Desk is a superb product for people who are office-bound for most of the day. You'll enjoy the beautiful finish, sturdy support with the correct setup, and size options.
Discover our expert's pick and full reviews, tips and product information like you have never seen before!
Standing Desk Picker
Answer these 15 questions to find the standing desk that best fit your needs.
Join Our FREE Newsletter Stay in the loop with new office & work from home trends, new release and exclusive giveaways!Last Updated: Aug 2nd 2020 Picture Credits: ApexDesk It's no secret that sitting at a desk all day isn't great for your physical health. Sitting...