StandDesk Custom-Built Desks Review 2020
Join Our FREE Newsletter
Stay in the loop with new office & work from home trends, new release and exclusive giveaways!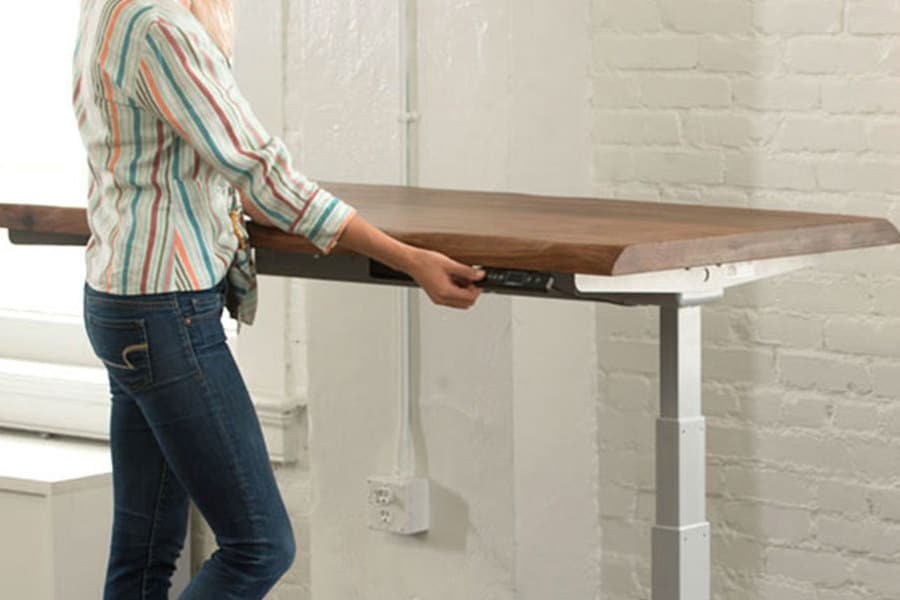 Health experts claim that sitting for too long can cause long term health problems, but how can we avoid this when a large percentage of our population has to sit at an office desk all day?
This is where standing desks come into play. Standing desks have become significantly popular in recent years. From reducing back pain to lowering the risks of heart disease, diabetes, and other health complications, standing desks make long office hours much healthier. 
The StandDesk Pro Custom-Built Standing Desk is a serious contender in the market. It comes in a variety of different arrangements that you can tailor to your specific needs. Few other desks are this customizable. 
In our StandDesk Custom-Built Desks review, we'll show you what makes these desks sleek, comfortable, and durable.
Pros
Built-in StandDesk dual motor
Height and width is adjustable & can be customized 
Fast and Powerful
Quiet Motor 
Pairs with the Ergonomic Office Chair 
Cons
Slightly expensive
Some features not included with the basic price
Desktop Offerings
The StandDesk team designs The StandDesk Pro with the health and wellbeing benefits in mind. Each desk is intricately handcrafted, and boast advanced functions such as adjustable control and safety features.
Materials
With the StandDesk Custom-Built Desk, you have a huge variety of materials and colors to choose from. This makes this desk the most versatile on the market.
When you start building your desk, you have the option to choose the following material for the desktop:
Arctic White
Jet Black
Reclaimed Wood
Black Walnut
South American Walnut
White Oak
Light Bamboo
Natural Bamboo
Each material comes with unique size dimensions, ranging from 45″ x 24″ to 80″ x 32″. 
Operation and Stability
Quiet Motor
The noise level of the desk is less than 4db, meaning you can adjust the height of your desk without worries of noise distracting you or your colleagues. 
Frame Height
You can raise the StandDesk Pro from 23.5″ up to 49″. You don't have to be a certain height to use it and can adjust and customize to suit your specific needs.
It has 20% more power than other models on the market due to its powerful construction, made with top-quality steel. This desk can go higher or lower a lot faster than other desks on the market. Its materials are also environmentally friendly. 
Along with desktop colors, you also get a choice of frame color. These include:
Matte Black
Pure White
Glossy Gray
Weight Capacity
Its metal frame can hold 400lbs of weight and removes any chance of a wobble, unlike other standing desks that need wall support for stability. You can trust the StandDesk Pro to hold all of your possessions in place without fear of collapse.
2-Button Handset
The desk operates from a small basic 2-button handset. This makes the device easy to use: you simply press up to raise the desk and down to lower it.
However, you can also choose to upgrade with advanced features and pay more for the memory handset. This unlocks a variety of advanced control features, such as four memory settings. Rather than adjust your desk each time you use it to get the height exactly right, you can push one of four buttons, and your desk will align with your favorite height settings.  
You can also upgrade your desk with the Ergonomic Office Chair and Stabilizing Crossbar. Even without the crossbar addition, which you can purchase as part of their package deal, the StandDesk Pro boasts the upmost resilience and stability.
Ease of Assembly
You don't necessarily have to be a DIY fanatic to assemble this product easily. Your desk will come with simple, easy to read instructions and also a video guide to help you through the process. 
The whole building process should only take up to an hour, just like many other 'build it yourself' products out there. The desk uses 30 bolts plus eight wood screws. 
However, if you know that you're not the most gifted at the DIY side of things, there are options for you to order the desk pre-assembled. It will cost you that bit extra with the delivery upgrade option, but the option is available.
How Good is the Warranty?
StandDesk offers the best warranty for standing desks in the industry. They offer a lifetime warranty for the steel frame, a 10-year warranty for the structure, and a 5-year warranty on all the controller, electronic, keypad, and mechanisms.
They also offer a standard returns policy. Any StandDesk is eligible for returns after 30 days, only after approval by the company, however. You must provide proof of purchase or ownership of a StandDesk product and be the original owner to qualify for a refund or exchange.
StandDesk's aim is for all its customers to be 100% satisfied with its products, which is why if you have any problems at all, the customer support team can help. 
The Takeaway
For all of you that are tired of sitting at your desk all day, the highly-customizable StandDesk Pro is here to make your workday more fulfilling. Thanks to the design, you can increase your overall wellbeing while working comfortably, spaciously, and stylishly.
There are many reasons why you might want to purchase the StandDesk ProAdjustable Height Standing Desk. Whether it be the immense stability, the height and desktop options, or the quiet operation levels, the StandDesk will satisfy your craving for a quality standing desk. 
Who is it For?
A desk that was created by millennials and designed for millennials, this StandDesk product has been revolutionary for those who feel confined and claustrophobic in office conditions. The StandDesk allows you to feel freer, and rumor has it, people are more creative when they're on their feet. 
This desk is perfect for the worker who can't sit still. If you feel like you need the space to move around at work with a sturdy desk that supports your equipment, this is the choice for you.
It's also ideal for the person that wants to completely customize your desk. If you want maximum control over the material, height, and color of your desk, you have plenty of options with these custom-built standing desks.
Discover our expert's pick and full reviews, tips and product information like you have never seen before!
Standing Desk Picker
Answer these 15 questions to find the standing desk that best fit your needs.
Join Our FREE Newsletter Stay in the loop with new office & work from home trends, new release and exclusive giveaways!Last Updated: Aug 2nd 2020 Picture Credits: ApexDesk It's no secret that sitting at a desk all day isn't great for your physical health. Sitting...