Jarvis Standing Desk Review 2020
Join Our FREE Newsletter
Stay in the loop with new office & work from home trends, new release and exclusive giveaways!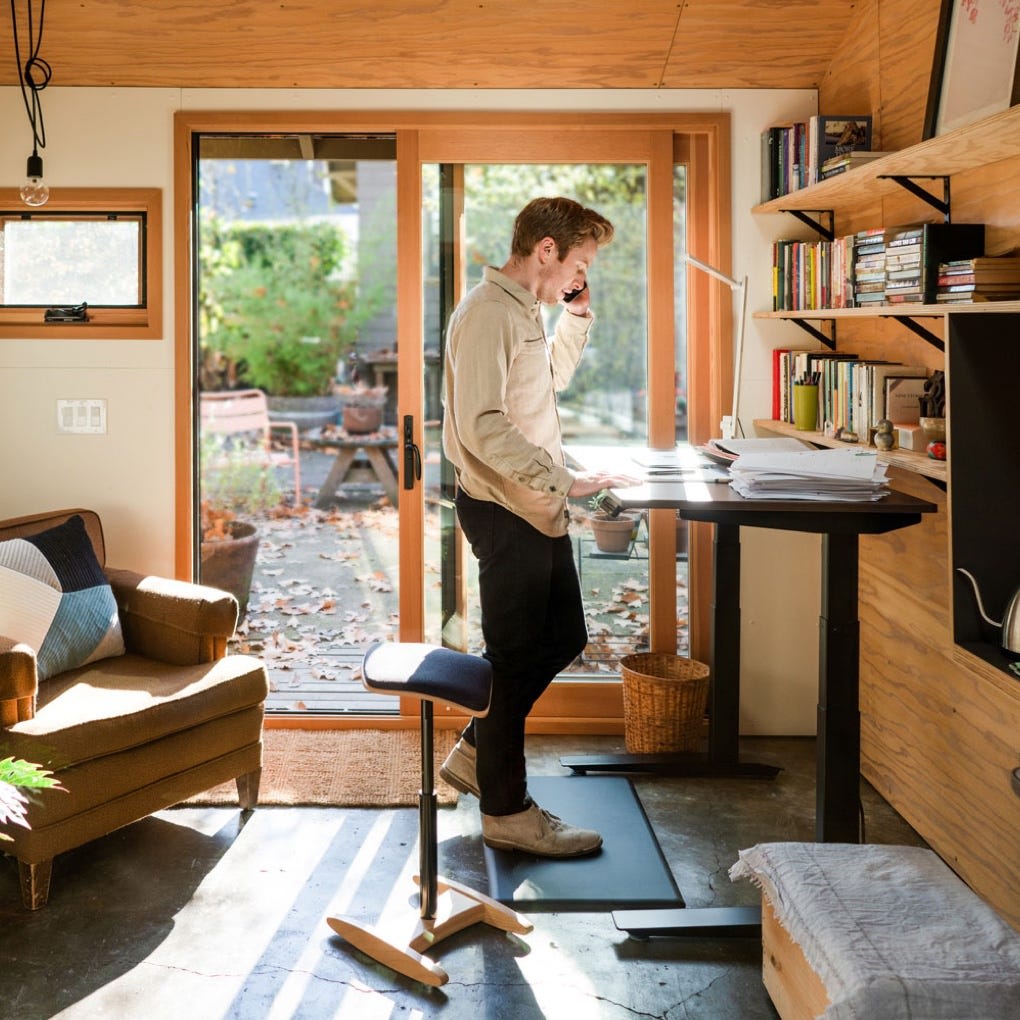 A standing desk with adjustable height is a great way to maximize comfort and health while you're getting through the workday. Jarvis by Fully offers a line ergonomic standing desks that feature sleek design at affordable prices. With an accommodating warranty, good customer support, and a stable, adjustable frame, it's easy to see why the Jarvis standing desk has such a successful history on the market. 
Below, we'll review all of the features that make this desk a great purchase for a comfortable workday. 
Pros
7-year warranty on frame, controls, and motor
350-pound weight capacity
Multiple design options in desktop material
Cons
Warranty doesn't cover desktops
Not compatible with treadmill desks
Desktop Offerings
One feature that makes the standing desks by Fully so popular is the wide variety of desktops available. They all come in a combination of desktop materials, sizes, and shapes to match any office style. 
Although the options in desktop materials, sizes, and designs are extensive from the Jarvis line, some combinations aren't available. View Jarvis by Fully's website to see which styles are compatible. We've listed desktop choices below:
Materials
Bamboo desktops come in two options:
Laminate desktops come in four options:
Spacestation black
Designer white
Walnut
Graphite
Maple
Whiteboard
Hardwood desktops come in three options:
Natural Maple
Walnut-stained maple
Walnut
Reclaimed wood desktops come in three options:
Heirloom finish
Kona finish
Chicory finish
Sizes and Shapes
Straight-edge desktops sizes:
30″ x 24″
36″ x 24″
42″ x 24″
48″ x 30″
60″ x 30″
72″ x 30″
78″ x 30″
Contoured desktop sizes:
48″ x 30″
60″ x 30″
72 x 30″
Operation and Stability
Jarvis standing desk allows customers many options when customizing their standing desk. It offers a sturdy frame, intuitive controls, and power organization to keep your workspace safe, comfortable, and clutter-free.
Handset Options
The control panel is usually the defining feature of an excellent standing desk. The Jarvis standing offers two options for handsets to give you the experience you prefer:
The

 

Up-down toggle handset

 

allows you to adjust your height manually. Simply press down on the toggle to lower the height and lift up to raise the height. 
The

 

OLED touch

 

programmable is a new upgrade that gives you a screen indicating the height. It also features preset height options so you can fluctuate between your preferred levels of standing and sitting with ease. 
Frame Stability
Jarvis has a reputation as an industry leader for standing desks with heavyweight capacity, especially at its market price. With a weight capacity of 350 pounds, any computer or office setup can be supported by a Jarvis by Fully standing desk. That's because of Jarvis's dual-motor structure that supports each leg, a sign of a quality model. 
The 2-tiered design of Jarvis frames is known to be incredibly stable. Its low center of gravity makes it much more resistant to any collapsing or toppling over. The heavy steel legs and a wide lifting column create a more grounded desk.
It is also free of a horizontal support bar, so those who are tall can enjoy crossing their legs while sitting with no issue. 
Frame Design and Range
The Jarvis by Fully desks are available in two sizes of frame: Extended-range (24.5″ – 50″) and Mid-range (29″ – 48″). Although the Mid-range option can't reach as low or high, it is compatible with 85% of adult heights.
The frames come in two widths: Wide 42.5″ – 74″ and Narrow 29.5″ – 47″.
There are four different color options: 
The Alloy is a special edition color of the steel frame but finished with a clear coat. This leaves the surface smooth while still featuring the color, texture, and surface of a raw steel look complete with heat marks and welding. 
Power Accessories
Jarvis by Fully desks feature wire management grommets to keep your power cords organized at the back left or right corner of your desktop. The circular openings measure around 3.15″ in diameter to allow room for cords to multiple devices.
Users can upgrade to powered grommets. They include one AC, USB-C and USB-A ports, so you have room for three devices in each grommet.
Ease of Assembly
Jarvis standing desks ship in 100% recyclable and EPE-free materials. The frame is split between two boxes to make it easier to bring into your home and assemble. The difficulty level of home assembly is not high. 
Those who don't enjoy assembling furniture at home can hire a professional, but we don't think it will be necessary.
If you don't enjoy your new Jarvis standing desk, you can enjoy their 30-day no-hassle return policy and free return shipping. 
How Good is the Warranty?
A warranty is a key sign of how a company represents and believes in their product. It should be no surprise that Jarvis has a sufficient warranty. 
All the Jarvis standing desks are covered by a seven-year warranty that includes the control box, motors, switch, and frame. Although it doesn't cover the tabletop, it still covers more than most other brands on the market. 
Jarvis is known for having excellent customer service that commits to getting you fixed parts quickly, should you have any issue. 
The Takeaway
The Jarvis by Fully standing desk has no doubt been a popular seller for many years. It's easy to see why, with custom desktop styles, efficient motor, controls, and sturdy frame. The commitment to customer satisfaction, as seen by their shipping policies and a seven-year warranty, shows that the company is still committed to delivering an excellent product in 2020. 
Who is it For?
This desk compatible with anyone looking to add comfort to their workday. With an extensive height range and extended frame size, this standing desk can accommodate a majority of adults, whether they're sitting on the floor or standing at a taller height. It's priced at the mid-line market value, making it an affordable option for most shoppers.
Check out prices on the Jarvis standing desk models today!
Discover our expert's pick and full reviews, tips and product information like you have never seen before!
Standing Desk Picker
Answer these 15 questions to find the standing desk that best fit your needs.
Join Our FREE Newsletter Stay in the loop with new office & work from home trends, new release and exclusive giveaways!Last Updated: Aug 2nd 2020 Picture Credits: ApexDesk It's no secret that sitting at a desk all day isn't great for your physical health. Sitting...